From the President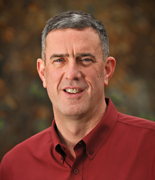 Mark Poling, Clean Water Services, Hillsboro , OR
Let me start by thanking all of you for the honor and privilege of serving you and the Association on the Board. It's been a great adventure so far and I'm really looking forward to this year! As I reflected on my efforts as a volunteer I began to realize just how much I had gained from them. It reminded me of the movie "Yes Man" where the main character's life is a wreck, and he attends a seminar where he enters into an agreement with the leader of the "Yes" movement and from that point forward is required to say "yes" to whatever is asked of him.
At first, it adds to his misery, but gradually his openness to new things and committing to them helps many other people and transforms his life. This is only a movie, but it's not far from real life because being open and willing to help has been just as transformative for me. It almost always started with someone asking me to become involved, to fill a specific need or role, or just to help someone out.
Because I said "yes" I have been blessed to be a member of a Church governing Board that deepened my faith, a Little League coach and Board member for nearly 15 years that provided so many great moments with many great young people, and now an opportunity to serve the Association. And the best part is that I get to work with so many great people who both encourage me and enrich my life.
Now I am personally asking those of you serving the Association, please don't deny someone the opportunity to serve on a committee, for a Section or in some other service to PNCWA. And for those of you who are asked, say Yes.and open yourself to a great life experience!
Want to get started right this moment? Become part of PNCWA's mentorship program by filling out a brief questionnaire.
Mentor: www.surveymonkey.com/s/Z8CX6B9
Protege: www.surveymonkey.com/s/85Y78BQ
Mark Poling may be reached at PolingM@CleanWaterServices.org.