Inaugural PNCWA InFLOW Cohort Makes Waves at PNCWA2019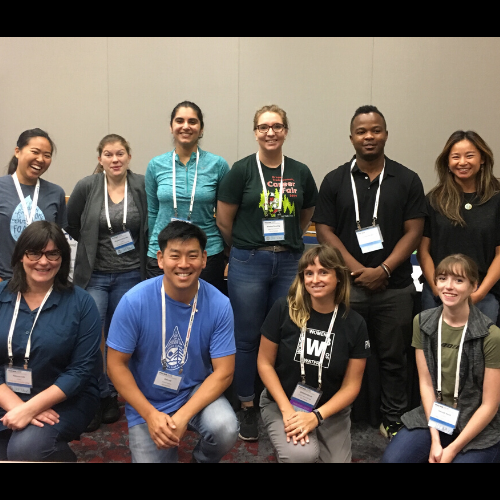 PNCWA celebrated a special milestone at the 2019 conference: the InFLOW cohort attended for the first time.  InFLOW is a scholarship program developed by WEF that invites students from underserved minority groups to attend WEFTEC for free. The PNCWA InFLOW effort was spearheaded by Member Services Chair, Brittany Burch, with support from several other members of PNCWA leadership including Steven Drangsholt, Kristi Steiner, Dick Finger, and Brittany Park. Brittany Burch was inspired by the stories and successes already coming from WEF's InFLOW program and wanted to create the same opportunity for PNCWA students.
"People who work in water are passionate. It shows in our work, on our faces, and in our interactions. Many of us attend conferences to be inspired, and sharing this inspiration with the InFLOW group is so critical to the long term success of the program. The support from our PNCWA members made that part easy," said Burch. By creating a regional program, PNCWA has opened up opportunities for students in the Pacific Northwest who may not have had exposure to the water sector before. PNCWA InFLOW helps pique students' interest in the water sector and sets students up with networking opportunities to increase their potential for employment and long-term success.
The inaugural year brought 11 participants to the PNCWA 2019 conference from across the Pacific Northwest. The participants were given a full itinerary that included the stormwater service project, several networking events, and their own track in the technical session. "Having the opportunity to present made me feel like a valued member of the industry," said InFLOW participant, Brittany Downing. The InFLOW group presented on how and why the water industry wins by reaching out to diverse students. 
2020 PNCWA President, Adam, McClymont, said the InFLOW-led presentation was one of his top conference moments. "The InFlow candidates were asked not how today's workplace could be better, but rather what type of workplace speaks to them. Their answers were genuine, touching, and eye-opening. We should all spend more time listening to and learning from the next generation. We should shape our organizations around them instead of fitting people into current workplace models," said McClymont.
Mentorship and networking proved to be the top reasons why students were so eager to be involved. "Attending professional activities like the InFLOW program is an important part of staying on the right path," explained Bashar Al-Daomi. Bashar's passion for water began at a young age; Bashar grew up in Iraq and witnessed a local river become polluted by municipal and industrial wastewater. "I worked hard to stay connected with the wastewater professionals [who] nominated me for the program," said Al-Daomi. 
PNCWA's InFLOW program is set to grow. If you'd like to be involved or if there is a student you'd like to nominate for the program, please reach out to Brittany Burch at
[email protected]
.
Share this post: