2021 Opening General Session Recap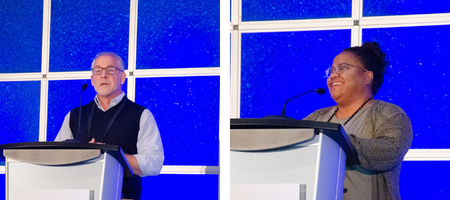 What an absolute treat it was to host Dr. Dan Prinzing and Tai Simpson at our Opening Session. These eloquent speakers spoke to us about the changes we must make to create the future we want to see.
Dr. Dan Prinzing told the tale of when the Idaho Anne Frank Human Rights Memorial was defaced with pro-Nazi symbols last year. "We are everywhere," the graffiti announced to onlookers. The people of Boise rose from this tragedy, took the phrase for their own, and replied back yes, we are everywhere. Good people are everywhere. Dr. Prinzing wants each of us to reflect on what kind of a human we will be. What actions will you start taking?
Next up was Tai Simpson, the storyteller, and what a story she told. She wove together the tale of the Nimiipuu nation, of strong women fiercely protecting our world, of how we're all children of water, and how we all must protect our second mother. Imagine if we could all paint beautiful stories of water with our passion and come together to recognize our collective role as water protectors.
The ripples of change start today!
Share this post: