Resource Recovery Committee Update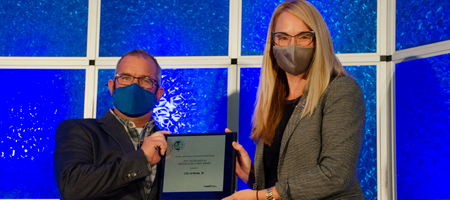 Congratulations to the City of Boise for being awarded the 2021 PNCWA Excellence in Resource Recovery Award! As one of the fastest-growing cities in the country, the City of Boise knows that protecting natural resources is vital to maintaining livability. The City has embarked on the following efforts that demonstrate their commitment to resource recovery in the Pacific Northwest.
Climate Action Roadmap
The Climate Action Roadmap outlines how the city will achieve its climate goals, focusing on reducing greenhouse gas emissions and building the city's resiliency to adapt to anticipated climate impacts. The plan details seven priority areas, including buildings and energy, transportation, consumption and waste, food systems, natural environment, water, and innovation and engagement.
Water Renewal Utility Plan
The City developed a long-range plan that will balance Boise's environmental, financial, and community needs while determining how to treat and renew the water the City uses. This plan identifies the best way for Boise to recover potential resources — including water, energy, and fertilizer — and a sustainable strategy to get there.
Twenty-Mile South Farm
The City of Boise owns and operates a 4,225-acre farm approximately 20 miles south of Boise. The aptly named "Twenty-Mile South Farm" (TMSF) receives biosolids from the City's two main water renewal facilities: Lander Street and West Boise. The treated biosolids are stored, then applied to fields for growing forage crops that are eventually sold to farmers.
Pure Water Brew Boise
Pure Water Brew Boise takes large steps toward creating viable and local products from used water, effectively changing the conversation around giving new life to used water. Under the Pure Water Brew initiative, the City used 100% treated water, cleaned to drinking water quality, and worked with local breweries and a cidery to create tasty beers and ciders.
Composting Program
Boise has been composting since June 2017, and the program has been an overwhelming success. The composting program accepts organic materials, including food waste, which diverts readily degradable organic materials from landfills. Not only that, but  the compost produced is also available to residents as an application for lawn improvement, mulch around plants, and a soil amendment.
Geothermal Energy
In 1983, the City of Boise established the beginnings of the Geothermal Heat system that is now a part of the largest municipally operated system in the country, heating more than 90 buildings throughout downtown Boise. The largest in the country, the City of Boise's geothermal heating utility delivers the naturally heated 177° water through a network of pipes that, as of 2019, has warmed more than 6 million square feet of building space.
Thank you, City of Boise, for being a great steward of our beautiful resources in the Pacific Northwest!
Share this post: