Introducing Future Leaders to Opportunities in Water
In 2019, the Pacific Northwest Clean Water Association (PNCWA) launched a program called InFLOW (Introducing Future Leaders to Opportunities in Water): an initiative that strives to identify promising students and young professionals from underrepresented minority groups who are interested in careers in the water industry.
In 2020, due to the impacts of COVID-19, PNCWA reimagined this program to be a year-long, five-part workshop in preparation for the fall conference. These five workshops focus on information related to the water/wastewater industry, networking, skills development, employment opportunities, and conference preparation. In 2022, this initiative continues to identify and introduce these students and young professionals to careers in the water industry. Building off the successes and the lessons learned from the first years of the program, PNCWA is continuing in its mission to change the face of the water industry and help build a more diverse and inclusive world.
The program will engage these underrepresented groups in the form of a sponsorship to attend the PNCWA 2022 Annual Conference, taking place in Spokane, Washington September 11-14, 2022.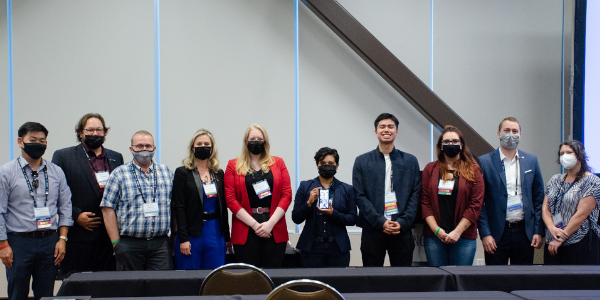 Group picture of 2021 InFLOW group and Board members at PNCWA2021 in Boise, ID.
---
PARTICIPANTS RECEIVE
One Full Conference registration to attend PNCWA 2022;

A $100 stipend to use towards personal expenses incurred to travel to/from the conference;
Opportunity to build relationships and a future career in the water quality industry.
APPLICANTS MUST
Be enrolled full time in a two-year, four-year, or graduate degree program, OR, have no more than two years of professional experience in the water industry;
Attend each day of the program to receive the full stipend;
Participate in the conference in a meaningful way (options to be provided in advance);
Complete a written summary of his or her experience of the InFLOW Program.
APPLICATION PROCESS
Applications may be submitted by potential InFLOW participants, or be nominated by peer;
Deadline to apply: Nov 30th, 2021.
For questions or comments, please reach out to Brittany Downing.
Share this post: