PNCWA2022 Call for Committee Collaborators
Join us as a key member of the 2022 conference committee to continue shaping the future of our annual conference.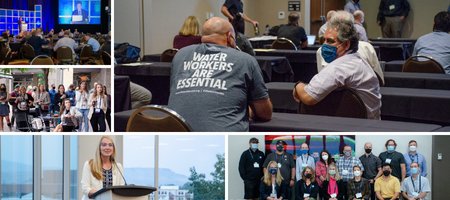 Our organization has proven resilient over these past couple of years. And like water, we have adapted to the obstacles in our way to find a purposeful path forward. PNCWA 2022 represents a turning point in the future of our conference and how we connect as water professionals. We're excited, to say the least!
This year, we're opening up some of our key conference committee roles to all our PNCWA members in an effort to bring in diverse perspectives from new and veteran members. Being part of our conference committee is an excellent leadership and networking opportunity, and we're looking for people who embody integrity, responsibility, respect, and a positive attitude. If you possess these qualities and have a passion for water, this call is for you!
To apply, click here and answer a quick questionnaire to submit your name. The application deadline is December 15, 2021.
Conference Committee Members:
PNCWA President – Rob Lee
2023 PNCWA President-Elect – Lara Kammereck
Technical Program Chair – Jeff Schmidt
Conference Chair – Vicky Hollingsworth
Open Positions:
Abstracts Coordinator
Virtual Technical Program Lead
Lead Moderator
Exhibit Hall Lead
Pre-/Post-Conference Workshops Lead
Service Project Lead
Facility Tour Coordination Lead
Networking Events Lead
Exhibit Hall Tour Guide Coordinator
Committee Member Expectations:
Collaborate with other members of the conference committee and PNCWA and with our consultant teams (MeetGreen and Rogue Water) to advance your responsibilities as a lead.
Be available for monthly committee calls through September 2022.
Share this post: