WaterWeek 2017 Part 2: PNCWA Members Meet with DC Representatives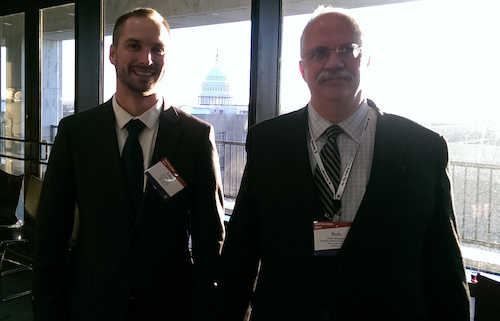 On March 21, 2017, PNCWA Government Affairs committee members Bob Baumgartner, John Beacham, Mike Ollivant flew into Washington, D.C. for the annual WaterWeek Fly-In, where water representatives from all over the country gather to talk water infrastructure and funding. In "WaterWeek Part 1: PNCWA Members Report on National Policy," we reported on national policy discussed.
Next, John, Bob, and Mike split up to meet with representatives from each of our states—Idaho, Oregon, and Washington. Our message was threefold:
PNCWA is eager to help policymakers, specifically by offering to poll association membership to provide feedback for specific questions or to provide feedback on issues of interest to the lawmakers.
Funding for clean water infrastructure is a critical need, with particular focus on potential loss of funding for small communities through USDA.
Tools such as integrated planning, watershed based planning, and other innovative solutions to water quality issues need to be more fully explored and supported.
In John's meetings with congressional staffers, he specifically discussed the prior successes of the USDA Rural Development program, noting its importance to smaller communities (of which Idaho has plenty). As the program was not included in the president's proposed budget, this will be an area of negotiation for the upcoming congressional budget and eventually the appropriations committee.
The staff of Senator James Risch of Idaho indicated a desire to approach water quality issues at a state level with interstate agreements reached through negotiations of the states' executive branches. Staff were supportive of infrastructure funding in general but concerned that federal funding involved too much overhead. Staff indicated they were hesitant to support the USDA-RD funding as it seemed duplicative with the SRF program. John specifically discussed the prior successes of the USDA Rural Development program, noting its importance to smaller communities (of which Idaho has plenty).
The staff of Senator Mike Crapo of Idaho indicated more support for the USDA-RD program as well as for infrastructure funding in general.
Given the pending vote on the AHCA, house staffers were swamped with phone calls and meetings. John was still able to meet with staff from Idaho's Rep. Mike Simpson's and Rep. Raul Labrador's offices. Simpson is on the Appropriations Committee and his staff indicated they would review the Rural Development funding, as that is an important issue to the people of Idaho. Labrador's staff mentioned the idea of watershed-based planning, integrated planning, and other locally derived solutions fit with the Congressman's views on government as well as likely support for the USDA Rural development program.
Many staffers expressed appreciation for the offer to connect them with PNCWA members who might have pertinent insight or specific examples of an issue.
The Oregon Team coordinated visits with the drinking water representatives. Bob met with staff from Representative Schrader, Bonamici, Blumenauer, and Defazio, and staff from Senators Merkley and Wyden's office. Many of the staff members remembered us from previous visits and were prepared to discuss our issues in advance. Integrated planning continued to be well received by the Oregon contingent. Potential impact from climate change was discussed, but there was much uncertainty about what, if any, action may occur. Infrastructure funding for water and wastewater was well received including support for SRF, tax-exempt bonds, and WIFIA. Several of the staff were interested to know if Oregon municipalities had considered combining several projects for a larger WIFIA application. Such coordination has so far eluded us. Senator Merkley's office asked PNCWA for specific information on how they could help advance reuse, perhaps through grants or directed funding through Title 16.
Mike was able to meet with staff from 6 of the 10 representatives from the State of Washington over a two-day period, including Denny Heck, Suzan DelBene (Ben Barasky), Derek Kilmer (Kaite Allen), David Reichert (Dolin Swanson), Adam Smith (Madison Strader), and Dan Newhouse (Scott Tollefson). The message was consistent from prior years:
Funding Support: We recommended to continue supporting expansions of WIFIA and tax exempt municipal bond to allow larger projects access to funding without needing to rely as heavily on SRF funding. Washington State, Puget Sound, and other parts of Washington are facing billions of dollars in clean water improvements and need funding, including continued support of SRF and support of funding through USDA for small communities. Only Representative Kilmer's office was aware of the USDA cuts—which could have a negative effect on the smaller communities—proposed in the president's budget. PNCWA representatives raised awareness of the proposed USDA budget cuts and reiterated the importance of having affordable funding sources for clean water projects.
Innovative Solutions: We recommended allowing for innovative solutions to solve clean water challenges in the face of continued budget cuts. With predictions that 85% of pollutants are non-point, allowing agencies to implement integrated watershed solutions may be more cost effective and provide greater environmental benefit than point-source improvements. Examples of projects such as Clean Water Services' tree-planting program (which cools stream temperatures) is just one example of a successful innovative project approach. This year, representatives were far more interested in these types of approaches than in years past.
PNCWA as a Resource: PNCWA is a great resource for providing information on a variety of clean water issues with a broad member perspective and are of service to the representatives if they would like information on how policy can affect agencies, rate payers, and the environment. Each of the representatives or staff was thankful that we had continued to visit them during water week and to support clean water throughout the nation.
As WaterWeek came to a close, Bob, Mike, and John all noted the benefits of developing a relationship between PNCWA and the lawmakers. Several members of Congress from around the country spoke at a closing ceremony, thanked the attendees, noted how critical it is to hear directly from those who will run the systems which protect our water and environment. We are hopeful the benefits of our continued outreach in the area will yield long-term results as infrastructure-positive policies are put into place in the future.
Share this post: