President's Message April 2022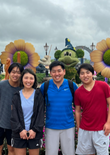 One of the greatest measures of an organization's relevance is the answer to the question, "What would happen if we didn't exist?" I've asked this of myself and of our board several times this past year — yet we keep coming back to the same answer. With the changes of the past couple of years, our industry here in the Pacific Northwest still has a critical need for collaboration, information sharing, networking, and continuing growth and education. And the inspiration and community that develops from such endeavors are always so important.
To that end, we're excited about the progress we're making in implementing the strategic initiatives we identified last year. I'm pleased to report these:
PNCWA is finalizing a contract to bring on a Managing Director this month so that the association again has staff to help support day-to-day operations.
Our amazing Conference Committee is finalizing the technical program and many of the larger events for our annual conference, to be held in-person and virtually in Spokane in September 2022.
Our committees have seen an uptick in membership engagement and activity, such as learning opportunities put on by our Government Affairs and Stormwater Committees, short schools and operator conferences led by our sections, and amazing posts by the Racial and Social Justice Committee to encourage and inspire us.
A tremendous thank you to the volunteers who make all of this happen, the organizations that sponsor PNCWA (Sponsorship Opportunities), and those that encourage and support employees who volunteer with the association.
As we head into spring, please reach out if there's anything that PNCWA can do to support you, your organization, and the industry. And don't forget the current available opportunities:
Share this post: