Join the PNCWA World Water Classic 6/60k Team!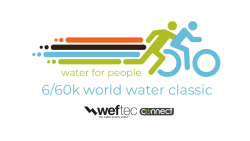 Great news! This year we will be joining in on WEF's virtual Water For People fundraiser, the World Water Classic 6/60k. You can participate on your own or with others in your area in the 6k run/walk or 60k bike to end walking for water anytime between Friday, October 2 to Sunday, October 11.
For $25, you can participate in the 6k or 60k — or $40 for both, if you're feeling extra active! Registrants also will receive a Water For People adjustable running belt. Kids 12 and under are only $10! (Running belt not included for kids.) The World Water Classic is open to everyone. You do not have to attend WEFTEC Connect to participate.
Halley Kimball has created a PNCWA team. If you are interested in joining, please go to the registration website (here), click Register at the top, and enter your information. At the bottom of the registration page, select "Yes" for joining a team and select PNCWA from the options given. If you are not interested in participating but want to donate or encourage others to donate, you can go to (or direct them to) the same registration link above and click Donate. Under the team options, you can select PNCWA and donate on behalf of our team to help us meet our goal.
We have a great opportunity to make a big impact for Water For People as a collective organization. We encourage you to share this event with your friends, colleagues, and company. They are welcome to participate on our team or donate to our team, whether they are a PNCWA member or not.
Share this post: