Member Spotlight: Miaomiao Zhang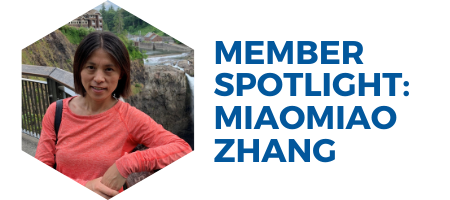 The Member Services Committee is excited to promote our amazing volunteers in our newest section of the monthly digest. If you know someone we should feature in the "Member Spotlight," send an email to committee chair Brittany Park. For our next spotlight, we would like to introduce you to Miaomiao Zhang. Take it away, Miaomiao.
Where did you go to school?
I went to University of Washington for my Master's Degree. Prior to that, I received my Bachelor's Degree from Tsinghua University in Beijing, China.
Where are you employed, and what is your role?
I am a principal engineer at Murraysmith. My primary role is pursuing and delivering wastewater treatment work. My other role as one of the company's technical service leads is to advance the company's technical capabilities and resources in the area of wastewater treatment.
What was your first introduction to PNCWA?
I joined the WEF and PNCWA soon after I started my consultant career as a wastewater engineer. It has been almost 20 years. During these 20 years, I have participated in the organization in a variety of ways, i.e. webinars, specialty conferences, annual conferences, committees, etc. I think my first "real" introduction to PNCWA was attending and presenting at one of PNCWA annual conferences in Boise. I was impressed with the scale of the technical program and vendors' exhibits and excited to meet many people with the same professional interest.
What is your current volunteer role within PNCWA?
I currently serve as the Sustainability Committee chair.
What is something that you love about your job?
I love to collaborate with the team and help the junior engineers learn and succeed. Realizing all complex tasks require contribution from people with different roles and skill sets, I strive to create a platform for everyone to achieve their highest potential and enjoy a feeling of accomplishment.
What's an example of how 2020/COVID changed what you do?
Probably like many others, in the past year, I spent significantly more time at home with my family. It was initially very stressful, since it felt like I was doing two jobs — keeping up the efficiency working from home and herding the kids for their online schooling and three daily meals. As time goes by, things get better. We share our feelings, understand and support each other. I am amazed by everyone's tremendous potential to adapt in this difficult time. Now, I truly enjoy and appreciate the company of my husband and two boys and probably will miss that when it's time to go back to the office.
What's one of your goals for 2021?
Stay healthier and more active, and lose some weight gained during the pandemic.
Do you have any pets?
No, I don't — although my two boys keep requesting one. I told them I will get a pet once they go to college and I have free time.
Do you have any off-the-beaten-path recommendations for visitors to your city?
I live in Kirkland, WA. One of the places my family often goes to in the summer is Juanita Beach Park, north of Kirkland and Lake Washington. It's usually not that busy, but has everything that everyone needs: a sandy beach, playground, and boardwalk. It has an amazing view of Lake Washington and the landscape of Seattle in the background. If you are a jogger, you could also walk from Juanita Beach Park to Juanita Bay Park, which is about half a mile south. You will find lots of natural wildlife walking around the bay.
What is a hobby or favorite activity?
Tennis is my favorite activity. I enjoy playing myself as well as watching my kids playing.
Share this post: