Member Spotlight: Erica Haide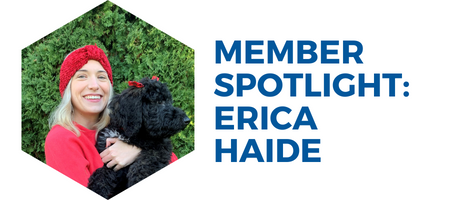 The Member Services Committee is excited to promote our amazing volunteers in our section of the monthly digest. If you know someone we should feature in the "Member Spotlight," send an email to committee Vice Chair Jen Murphy. For our next spotlight, we would like to introduce you to Erica Haide. Take it away, Erica.
Where did you go to school?
I attended Oregon State University in Corvallis, OR and majored in business with a focus in marketing.
What has been your career path (since graduating), and how has it changed over time?
I have been working in the water industry since I graduated from OSU and have been involved with marketing the entire time. I have evolved my industry involvement and experience over the years by participating, as well as taking on leadership roles, in several professional organizations (PNCWA, WEF, AWWA).
Where are you employed, and what is your role?
I am a senior marketing specialist at Brown and Caldwell.
What projects, programs, or initiatives are you working on, and what are you excited about in your role?
I'm on the Diversity and Inclusion team for our western business unit, which I am really happy to be putting effort into for BC, especially because I'm able to pay attention to what WEF/PNCWA are doing in that realm and leverage ideas.
What was your first introduction to PNCWA?
I've attended PNCWA conferences for the last 5-6 years or so, but once I attended my first Students and Young Professionals Committee (S&YP) meeting in 2018, that is when my passion and involvement really started to kick off for WEF/PNCWA.
What is your current volunteer role within PNCWA?
I am chair of the Students and Young Professionals Committee, and I also sit on the Member Services Committee, which is focused on supporting the InFlow team. I have also been involved with WEF, and I'm currently the marketing chair for the National WEF/AWWA YP Summit.
What is something that you love about your job?
Working with people who are passionate about their jobs and happy to be doing what they're doing, and working on projects that have some sort of end goal to better the surrounding communities.
What's an example of how 2020/2021/COVID changed what you do?
I have been working fully remote since March 2020 and work with teams daily in a virtual setting. I really do like working virtually, but I have had a few recent opportunities to work with people in-person and it has helped spike my passion once again.
What's one of your goals for 2021/22?
My goal for 2022 is to prioritize my 'yes' to people and focus my efforts on top priorities. The pandemic has helped me create a new love and respect for work-life balance, and I will continue to do what I can for myself and others to have that balance. It is so important!
Do you have any pets?
Yes, Indi is my Goldendoodle, and I got her during COVID (yes, I am one of those pandemic puppy people). She is the cutest and has a lot of personality.
Do you have any off-the-beaten-path recommendations for visitors to your city?
Check out the FOOD. Portland's food is GOOD. Pull up Eater articles to see what restaurants to go to by area (Northwest, Northeast, Southeast, Central East) and make a reservation. Send me a note if you ever need any recommendations — I got you!
What is a hobby or favorite activity?
I really enjoy cooking, restaurant exploring, eating, physical activity, wine tasting, snuggling/doing anything with my pup, and traveling, now that it is easier.
What is next for you in your career, PNCWA, and/or outside of work?
For PNCWA, I am excited to help more behind the scenes. I think Riley will be a great S&YP chair starting next fall, and I am excited to help him deliver success for the committee where I can. I enjoy helping out with InFlow in a supporting role, and I would be happy to do that in other areas for both PNCWA and WEF. Outside of work, the world is feeling like my oyster lately, so time will tell!
Share this post: