Save the Date! Carli Creek Water Quality Project Tour and Networking
Sponsored by PNCWA Stormwater and Utility Management Committees
Tour: June 15th, 2023 at 3 PM at Carli Creek wetland – location and directions below
Happy Hour: Immediately following the tour at the Wichita Pub located at 11481 SE Hwy 212, Clackamas, OR 97015
Join the Stormwater and Utility Management Committees on a walking tour of the 15-acre Carli Creek Wetland to learn how the site was converted from farm to wetland, how the stream was restored, and how it has been functioning. A WES engineer and ecologist will share our lessons learned as we enjoy the beautiful scenery along the Clackamas River.
May 2021 Aerial View of Carli Creek Facility
The Carli Creek Water Quality Project is a constructed wetland that treats stormwater runoff from an industrial area before it reaches Carli Creek and the Clackamas River, the drinking water source for nearly 400,000 people.
Before the project was completed, stormwater monitoring data revealed pollution levels in the 400-acre watershed far exceeded standards for E. coli, copper, lead, and zinc. These pollutants posed a hazard to drinking water, Clackamas River recreationists, fish, and wildlife.
The 15-acre property, previously farmed, was perfectly situated for a treatment project: near the confluence of the creek and river, in a farmland zone, and partially in the floodplain. The project restored 1,700 feet of Carli Creek with wood habitat structures, reshaped the soils to form new wetland basins, and installed new pipe systems to funnel stormwater runoff to the site. 70,000 native plants were planted to capture pollutants, while 83 wood structures were installed to improve habitat for fish and wildlife.
Directions to Carli Site: The Carli Creek site is located behind Pepsico at 11650 SE Capps Rd. From SE 120th Ave, turn right onto Capps. Drive to the end of Capps Rd and left into a driveway just before the Pepsico fence and booth. (Do NOT drive through the booth.) Drive all the way around the building through the parking lot, and on the downhill side, the parking lot leads to our unpaved driveway.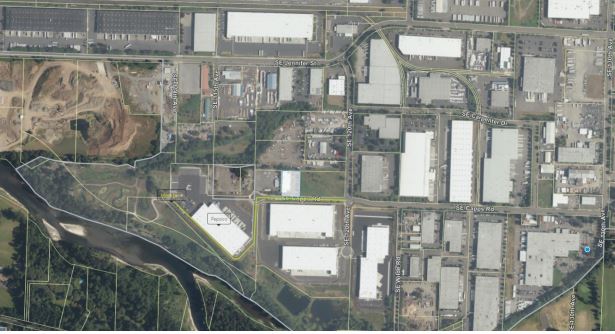 Share this post: