President's Message September 2021
As we enter into this new year for PNCWA, I'm incredibly humbled and honored to step into the role of President of the Board of Directors. PNCWA is such a critical nonprofit organization essential to the future of our region and the water industry. The 2021 Conference was an amazing reminder of that, and I personally am feeling reenergized and reminded of the importance of community, geography, and, of course, water.
Thank you to Haley Falconer, Immediate Past President, for her amazing leadership and sacrifice over the past year. Thank you to our conference committee, sponsors, manufacturers and exhibitors, the board, our dedicated committee chairs, section leads, and to the countless dedicated and talented people in the Pacific Northwest that have given so much to PNCWA.
The pandemic has lasted much longer than any of us anticipated. But instead of simply waiting it out, PNCWA has continued to shift to become nimbler and more adaptable. As we move into 2022, confronted not just by coronavirus, but also climate change, social and racial inequities, and tremendous workforce challenges, we recognize that this work of adapting and being flexible is actually what we needed to be doing all along. In next month's Digest, I plan to share my hopes for PNCWA in the coming year.
The world is changing. Our region is changing. We are changing. We need each and every one of you to help PNCWA continue to be adaptable in this new world. So here's what I ask. Join a committee. Sign up as a mentor or a protégé. Get involved in your local section. Give a presentation. Walk arm-in-arm with us and volunteer in a new way. Be a part of something that is so essential, so important, and, in so many ways, bigger than ourselves.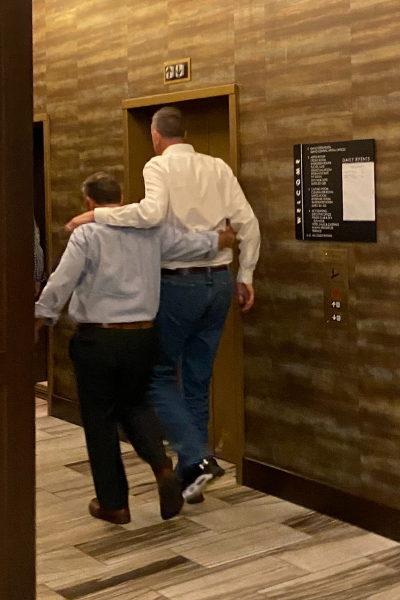 Photo: Past PNCWA President and WEF Trustee, Mark Poling (right), with 2019 Bedell Award Recipient, Preston Van Meter (left), at the 2021 conference.
Share this post: