President's Message November 2021
During this time of year, I'm reminded of the importance of being thankful — or "aware and appreciative of a benefit," as it's defined.
Many of us entered the water industry as an expression of our thankfulness. We were aware and appreciative of the tremendous benefits of our natural environment, the basic human right to have access to clean water, and our incredible privilege and responsibility to make a difference. And yet we continue to become increasingly aware of the big challenges ahead, such as climate change, labor shortages, supply issues, and how to best provide equitable access to diverse communities and rural areas.
As PNCWA strives to not only adapt to this new world, but to anticipate what our industry will need as we move into the future, the Board has set a few key goals for this coming year:
We are in the midst of hiring a managing director who can lead the hard work of implementing our strategic plan.
We continue to have discussions at the board level and with our committee chairs about how to best engage and maximize the valuable time of our critical volunteers.
We are seeking strategic partnerships that can help expand our reach while expending minimal effort.
Through it all, PNCWA could not provide the education, networking, and community opportunities without the generous support of so many of you. For that, I'm thankful. I'm thankful for our sponsors. I'm thankful for our contractors, board members, committee chairs, section leaders, committee members, lunch and learn hosts, manufacturers, and exhibitors. I'm especially thankful for the young professional who courageously raises their hand, giving of their time to inquire about a committee, put together a conference abstract, or forward on an invitation to apply for InFLOW. It's the small things all added together that will help us overcome the challenges ahead and make the world we live in just a little bit better. Would you pause for a moment with me to reflect on what you're thankful for?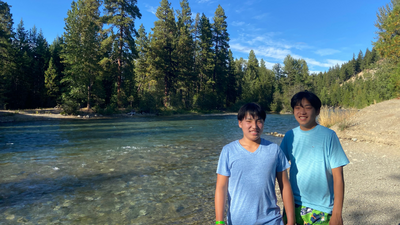 My boys on the banks of the Cle Elum River (WA)
Share this post: