PNCWA's Haley Falconer Selected as Water Rep for International Sustainability Conference
Next week, one thousand young professionals from around the world will gather in Copenhagen, Denmark, for the first ever Unleash Lab. For nine days, delegates will gather to tackle and discuss the UN Sustainability Development Goals (SDGs) and find real, scalable solutions to issues like health, energy, education, and the environment.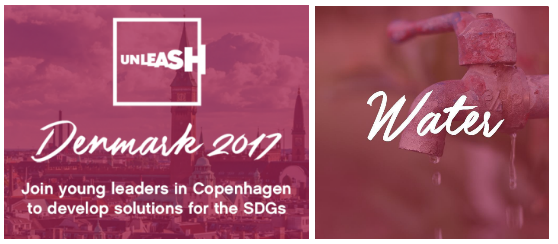 WEF, the Water Environment Foundation, nominated eight young professionals to attend the conference and represent the development goal area of water. PNCWA's own Haley Falconer was one of those nominated and is on her way now to discuss sustainable water solutions among other technical experts, academics, and entrepreneurs.
Falconer, the Environmental Manager for the City of Boise, says "It's an incredible opportunity. I'm so excited to see, hear, and be a part of the solution. We all come with different perspectives and together we will develop fundable, implementable solutions by the end of the program."
Falconer is Past Chair of the WEF Students and Young Professionals Committee and currently serves on the PNCWA Board as WEF Director. She is a member of PNCWA's Utility Management and Student & Young Professionals committees.
Each attending member of Unleash wrote a personal blog post about their area of expertise. You can read Falconer's post, on the role of cities in water infrastructure and sustainability, in full here. In her piece, Falconer says "My passion is water. Water is fundamental to everything we do and can serve as a connection between all of the sustainability development goals.":
We know that urban growth is a continuing trend around the world. Additionally, city governments are often structured to be nimbler than counterpart state and federal governments. Because of this, cities are where action is occurring around the world. Cities can move more quickly to set goals, change codes, provide incentives, and educate the public. Cities also can make long term investments without a focus on short returns on investments that often drive corporate decisions. These factors highlight the need to partner with and engage local jurisdictions in the implementation of SDG solutions. Cities drive changing infrastructure and regulatory needs, lead by example, set the pace for change, and are the foundation to implementing the SDGs.
PNCWA is thrilled about Haley's accomplishments and proud that she is representing the Pacific Northwest water community in Denmark.
PNCWA members can follow along with the Unleash Lab next week. If you're on Twitter, follow the hashtag #unleashlab2017 and Haley at @haleyrfalconer.
Share this post: