History of Coeur d'Alene Wastewater Treatment Plant Chronicled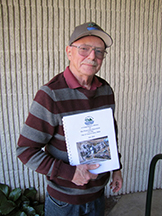 In 1999, Coeur d'Alene wastewater utility superintendent Sid Fredrickson set out to write a brief three-to-four page history/profile on the sewage plant. The project evolved into significantly more than a summary.
Nearly 15 years later, Fredrickson recently completed a Comprehensive History of the Wastewater Department for the City of Coeur d'Alene. Fredrickson spent countless hours over the years researching old newspaper articles, wastewater department archives, City Council minutes, and old photos and illustrations to compile an 89-page history of the 75-year-old treatment plant.

A CD that accompanies the book includes newspaper articles and city correspondence dating back to 1906 when the city formed its first "local improvement sewerage district." The district was bordered roughly by 1st Street and 11th Street on the west and east, Mullan Avenue on the south and Foster Avenue to the north.

Fredrickson initiated the ambitious history project because he was curious about the city's construction of a secondary treatment facility in 1939. The treatment process was among the first of its kind in the Pacific Northwest and provided an advanced form of treatment that would not be required by law for another 33 years. "It was very unusual for a city of our size to have secondary treatment back then," Fredrickson said. "That piqued my interest so I started doing some research." The treatment plant was built for $115,512 in 1939 when Coeur d'Alene's estimated population was 10,000. In today's dollars, Fredrickson estimates that figure to be about $2.5 million. Over the years, particularly since 1981, there have been significant upgrades and expansions to the plan, now valued at about $120 million. Read more at cdaid.org.
Share this post: