Member Spotlight: Frank Dick
The Member Services Committee is excited to promote our amazing volunteers in a new section of the monthly digest. If you know someone we should feature in the "Member Spotlight," send an email to committee chair Brittany Park. For this month's spotlight, we would like to introduce you to Frank Dick of the City of Vancouver. Take it away, Frank.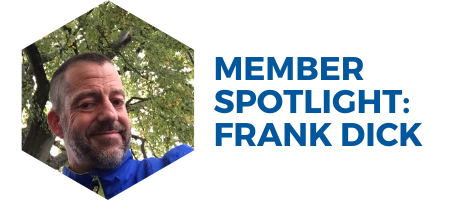 Where did you go to school?
Washington State University, Chemical Engineering
Where are you employed, and what is your role?
I have worked for 14 years with the City of Vancouver as Wastewater Engineering Supervisor, overseeing capital projects and compliance programs, as well as primary interface with wastewater treatment plant operations. Previously, I worked in the semiconductor industry doing facilities and environmental engineering.
What is something that you love about your job?
People and collaboration. I get to interact with the full range of wastewater workers: with operators, maintenance techs, engineers, expert consultants, planners, policy makers, finance people, and yes, even regulators.
What's an example of how 2020/COVID changed what you do?
I've been getting way creative with cooking and getting a lot better about using up food. I've developed a repertoire of "kitchen sink" recipes. Also, since I'm single and live alone, the only human contact I've had for nearly a year was when I collided with a bicyclist last summer. It was a pathetic, slow-speed crash, and it was totally my fault. Both of us and our bikes were okay.
What's one of your goals for 2021?
I'm striving to do a personal story for Moth Radio/NPR.
Do you have any pets?
Not at the moment. Unless you count the dead moth, ladybug, and dragonfly who decided to go dormant on the window sills in my place. They actually look cool there.
Do you have any off-the-beaten-path recommendations for visitors to your city?
I live in Portland, and I figure everyone knows the typical places. But here are some gems: one is the Burnside skatepark to watch skaters. On weekend mornings, parents bring their kids there, and as the day progresses, it becomes more adult. It's a very welcoming, open scene of all sorts of people, and they self-maintain the park. Or walk around the Central Eastside Industrial District to see lots of wall murals. There's a hidden gem Zen spot for springtime in a sunken spot right next to Memorial Coliseum near MODA Center, the "Memorial Fountain." All of these places are within easy walking distance from the Oregon Convention Center, for next time you're at the conference there. Finally, there's the food cart Nacheux, a Black-owned, Mexican/Southern fusion cart. Look it up.
What is a hobby or favorite activity?
If I could live and work on a bicycle, I'd do it. Road biking is my thing.
Share this post: